About Nora Rubber Flooring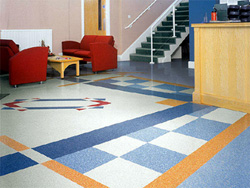 nora® rubber flooring - where inspired design meets exceptional performance
At nora®, we recognize your desire to express your creativity and are enthusiastic about helping to bring your designs to life. Our sales, service and support staff, as well as our nora® rubber flooring products, will provide the exceptional, enduring performance an inspired design should enjoy.
The nora® system consists of:
norament® raised surface flooring available in tiles
noraplan® smooth surface flooring available in tiles and rolls
nora® stairtreads and accessories
This unique system provides perfect harmony between design and functionality - designs, color ranges, special qualities and accessories are all compatibly matched, allowing you to satisfy different functional requirements in a coordinated design.
---
---